With Jesus Christ as the Head of our Church, Grace is led by our senior pastor and the pastoral team, who are supported, protected, and advised by a team of elders. Understanding that spiritual oversight is best done through the counsel of many rather then a few, the elder team consists of spiritually mature men who are actively involved in the Body.

Steve Atkins
Steve is married to Carol and they have been at Grace for 13 years. Steve has been employed at PNC Bank for 34 years and is a Process Engineer. Steve serves with Grace Men's Ministry through Priority Projects. He is also a coach for one of our Grace softball teams, and serves on the MUMS set-up team. He participates in Band of Brothers and in a men's small group Bible study. Steve says, "God gave me Grace Church as a path to move from religion to relationship. Rather than Christ being a segment of my life – getting attention only on Sunday mornings – He is now the center. Through the study of Scripture and fellowship with other Christians, my faith and trust in the Lord continues to grow."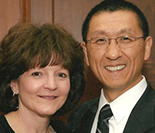 John Chae
John Chae is married to Linda and they have 2 grown sons. They have attended Grace since 1996. John has served in the past as an Elder and he continues to serve on the Compensation Committee. He and Linda serve with our Prayer Ministry and have participated in short-term trips to Bongolo Hospital in Gabon. John says, "My desire is to see mendevelop into spiritual leaders in their homes and impact their professional spheres of influence for Christ." John is a physician at The MetroHealth System and faculty of Case Western Reserve University. He initiated the Northeast Ohio Christian Medical & Dental Association (CMDA) and the Christian Faculty Fellowship at CWRU. John's desire is to see the Great Commission fulfilled globally, and he serves on the Commission of the Pan African Academy of Christian Surgeons(PAACS) which organizes and trains African physicians, especially in rural areas.
Darrick Culver
Darrick Culver is married to Sandy, and they each have one child and 2 grandchildren. Darrick owned and operated an insurance agency for nearly 30 years and is now retired. He has been at Grace 17 years and has served as an elder, small group leader, youth advisor, usher, & usher team leader. He serves on the Grace Church business committee, and he and Sandy facilitate the DivorceCare ministry. Darrick says, "My life verse is Philippians 4:13, and my desire is to be a willing servant, reaching others for Jesus Christ."
Russ Czellath
Russ is married to Peggy and they have been at Grace for 15 years. After retiring 3 years ago, Russ and Peggy stay busy caring for aging family members. Here at Grace, Russ serves as Head Usher, as an Adult Class teacher, and he co-leads our Grace Golf league. Russ has served in a number of short-term missions trips. Russ states, "I have had the privilege of watching our church grow and serve increasing numbers of people. We have accomplished several church plants and reached out to our community to exemplify Jesus Christ. I am proud to be a member and serve at Grace."
Josh Grusendorf
Josh and Kim were married at Grace in 2006, and have 3 sons. Josh came to Grace while still in high school. He has been in law enforcement for over 13 years and is currently a law enforcement training officer for the State of Ohio. He and Kim are involved in our Marriage Ministry and lead the Young Married Connection on Wednesdays. Josh also serves in our Sports Ministry as team chaplain. Josh states, "Grace is where our family has grown, where our kids accepted Christ, and where our friendships were born. We look forward to many more years here, serving our wonderful Savior in whatever way He calls."
Richard King
Richard King is married to Fern, and they have five daughters. Richard retired after 34 years at Alcoa and currently works as Executive Director for The Phillis Wheatley Association. He serves on the Council of Agency Executives and Central Community Promise Neighborhood initiative. He has been instrumental in starting our inner city tutoring ministry. He has served as an Adult Class teacher and participates in Men's Fraternity. He and Fern have served in our Meal Ministry and currently in our Prayer Ministry and Welcome Center. He states, "We are to model Jesus' command to be salt and light in the world. There are many opportunities to attract others to Christ, often taking us out of our comfort zone. I am grounded in my faith, and as a willing servant, I 'trust in him at all times' (Psalm 62:8)."
Lance Mayer
Lance Mayer is married to Karyn, and they have 3 grown children. Lance is employed by OxyChem in PVC as a chemical engineer/scientist. At Grace, he and Karyn are involved in supporting our missionary prayer teams in praying for Keir & Joanna Thelander, Andy and Michelle Svoboda, and Drew and Michele Brown. Lance is also actively involved in our Friendship class serving one-on-one with students. Lance states, "My family and I started attending Grace 29 years ago, instantly falling in love with it then, just as so many people do now. It was a big church then, and it is many times larger now, making it even more important for each of us to be linked in and accountable to the body."
Josh Palcic
Josh is married to Jennifer. They were married in 2002 and have 3 children. Josh has been employed as a physical therapist for 8 years at The Achievement Centers for Children working with children. At Grace he has led Financial Peace University. He and Jen have been Senior High advisors and table leaders in our Marriage Ministry. They look forward to serving with Young Married Connection. Josh says, "From the moment we entered Grace, we felt at home because of the commitment to serving and caring for people. We have grown through the classes we have taken and through opportunities for involvement."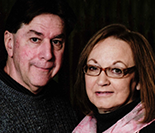 Mike Rush
Mike Rush is married to Debbie and they have attended Grace for 43 years. They recently retired from Options for Families & Youth, a private non-profit foster care/adoption agency they co-founded 29 years ago. At Grace they serve in our Prayer Ministry and participate in a small group, mens/womens Bible study groups and Forever Young. Mike has taught Adult Classes, has been on 7 short-term mission trips. In the community, he serves at The Hope Center and Westside Community House, and is involved with child/family initiatives in Uganda. Mike says, "Jesus has always been the focus at Grace under the leadership of Pastors Donald and Jonathan. It has given us a place to grow spiritually, serve and love others, guiding us in ways to help non-believers follow Jesus."
Keir Thelander
Keir Thelander is married to Joanna and they have 2 children. After spending 10 years in Gabon, West Africa as medical missionaries with the CMA, God called them back to Cleveland 2 years ago. Keir now serves as Chief Medical Officer with the ministry of PAACS (Pan-African Academy of Christian Surgeons) founded at Bongolo Hospital where he and Joanna served. He oversees 12 training programs (training and discipling 80 trainees) in Africa in 8 countries. Keir and Joanna remain involved with Bongolo Hospital in mentoring future missionaries. Joanna serves with our Small Groups ministry, and they are grateful to be a part of a small group. Before being elected, Keir shared, "Grace has grown in so many ways. We are thankful for the kindness and generosity shown to us as we transitioned back to the USA and desire to see others challenged to pursue God fully, whatever the cost. If God desires that I serve as elder, I would be humbled and consider this a serious commitment in participating and hearing from God for our future direction as a church. Whether as an elder, or in other ways, I look forward to being a part of Grace's ongoing growth in diversity and missional living."
Brian Wellman
brian.wellman@cfafranchisee.com
Brian Wellman is married to Vicki, and they have been at Grace for 6 years. Brian is owner/operator of Chick-fil-A Strongsville, building and developing his team with everything needed to love on their guests and positively impact the community. Before that, Brian spent 25 years leading manufacturing plants building teams in turnaround environments. As a result, he and Vicki have moved 15 times in over 30 years of marriage and lived in 11 different states. At Grace, Brian participates in Band of Brothers and serves as one of the teachers. He and Vicki lead a couples' group in Strongsville. Brian says, "Vicki and I consider Grace home. It is the place where we are fed Truth and have the opportunity to serve and build lasting relationships. We are thankful to be a part of a church family that is truly impacting lives for Christ, locally and globally. We look forward to serving at Grace for many years to come."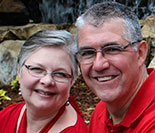 Bob Wido
Bob Wido is married to Diane, and they have been at Grace for 4 years. Prior to serving as an Air Force Chaplain for 24 years, Bob served as Youth and Senior Pastor in two Alliance Churches in PA. Before meeting Bob, Diane served as an Alliance missionary. Bob currently serves as Coordinator of Chaplain Ministries for the Central District. He regularly speaks at Band of Brothers and leads a small group Bible study. Diane leads a ladies' Bible study at Grace. Bob says, "We have found a home in this fellowship. We love the people, the leadership, and the ministry, and look forward to serving for years to come!"